Would you like to have your pointing dog trained for hunting?
Would you like a J.H. title from the A.K.C. for you Brittany or bird dog?
---
reservations are being taken now for hunting and Junior Hunter training.
Call now for more information.
Contact
---
Special Rates for Boarding & Training
$33 a Day For 6 Weeks of Training
($25 boarding/$8 training)
We prefer to train the owner and the pointer dog at the same time.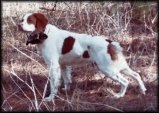 Professional Handling Services are Available Upon Request.
Karen Thorne is a licensed A.K.C. Hunt Test Judge and is also licensed by the State of Maine as Dog Trainer.